DrukREN has a 10 Gbps network capacity with its presence in 11 out of 20 Dzongkhags in Bhutan.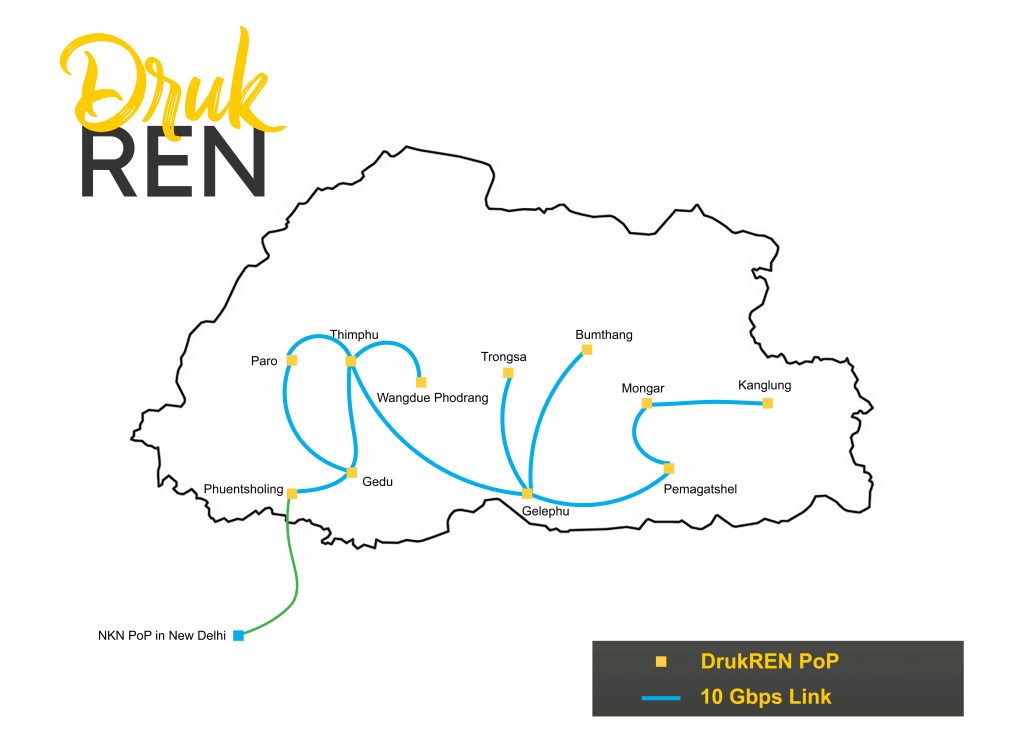 DrukREN is also a member of Bhutan Internet Exchange. DrukREN is peering with all network operators in Bhutan with 10 Gbps. As a result, DrukREN members can access all the domestic contents including Google, Facebook and Akamai Cache Servers with either 100 Mbps/ 1 Gbps access speed depending on DrukREN member subscription bandwidth.
DrukREN has commissioned its global research & education link via National Knowledge Network in India. The link capacity is 1 Gbps.
Research & Education Institutes connected to DrukREN in Bhutan:
| SN | Institution Name | Bandwidth Subscription |
| --- | --- | --- |
| 1 | Office of Vice Chancellor, Royal University of Bhutan | 1 Gbps |
| 2 | Gedu College of Business Studies, Royal University of Bhutan | 100 Mbps |
| 3 | College of Science of Technology, Royal University of Bhutan | 1 Gbps |
| 4 | Samtse College of Education, Royal University of Bhutan | 100 Mbps |
| 5 | College of Natural Resources, Royal University of Bhutan | 100 Mbps |
| 6 | College of Language & Cultural Studies, Royal University of Bhutan | 100 Mbps |
| 7 | Jigme Namgyal Engineering College, Royal University of Bhutan | 100 Mbps |
| 8 | Sherubtse College, Royal University of Bhutan | 1 Gbps |
| 9 | Paro College of Education, Royal University of Bhutan | 100 Mbps |
| 10 | Paro Hospital | 100 Mbps |
| 11 | Gedu Hospital | 100 Mbps |
| 12 | Phuentsholing Hospital | 100 Mbps |
| 13 | Punakha Hospital | 100 Mbps |
| 14 | Trongsa Hospital | 100 Mbps |
| 15 | Bumthang Hospital | 100 Mbps |
| 16 | Mongar Regional Referral Hospital | 1 Gbps |
| 17 | Pemagatshel Hospital | 100 Mbps |
| 18 | Samdrup Jongkhar Hospital | 100 Mbps |
| 19 | Kanglung BHU-I | 100 Mbps |
| 20 | Jigme Dorji Wangchuk National Referral Hospital | 1 Gbps |
| 21 | Royal Thimphu College | 1 Gbps |
| 22 | Faculty of Nursing and Public Health | 100 Mbps |
| 23 | Faculty of Traditional Medicine | 100 Mbps |
| 24 | Gyalpozhing College of Information Technology, Royal University of Bhutan | 1 Gbps |
| 25 | Centre of Bhutan Studies & GNH Studies | 1 Gbps |
| 26 | Jigme Singye Wangchuck School of Law | 100 Mbps |
| 27 | Khesar Gyalpo University of Medical Sciences of Bhutan | 100 Mbps |
| 28 | Gelephu Central Regional Referral Hospital | 100 Mbps |
| 29 | Gedu Higher Secondary School | 1 Gbps |
| 30 | Darla Middle Secondary School | 1 Gbps |
| 31 | Haa Hospital | 1 Gbps |
| 32 | National Centre Reverine and Lake Fisheries | 1 Gbps |
| 33 | Gongzim Ugyen Dorji Central School HSS | 1 Gbps |
| 34 | Chundu Armed Forces Middle Secondary School | 1 Gbps |
| 35 | Katsho Lower Secondary School | 1 Gbps |
| 36 | Tshaphel Lower Secondary School | 1 Gbps |